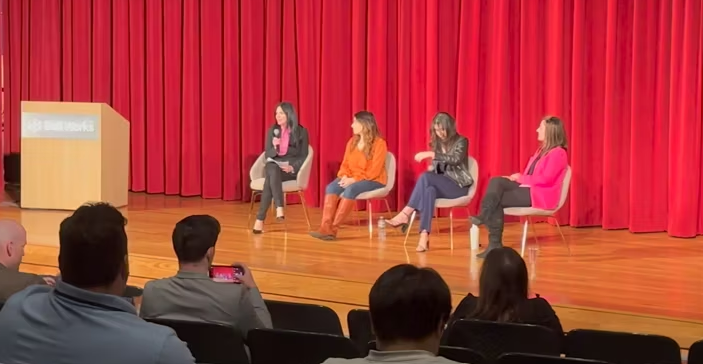 Apr 27, 2023
Female Tech Founders, Innovators Gather at Bell Works for Inaugural NJ Women in Technology Forum
HOLMDEL, N.J.–(BUSINESS WIRE)–On April 20, NextTech Communications, in partnership with TechUnited:NJ and the Bell Works Co-Lab, successfully hosted the inaugural NJ Women in Technologyforum in Holmdel, joined by more than 60 guests and a panel of female technology leaders from across the state.
The event came at a poignant time for female executives—who, despite improvements in parity, still face a disproportionate amount of barriers in the workplace. According to Pew Research Center, 50% of women in tech have reported discrimination and inequality in a professional setting. Additionally, only 9 percent of women-led startups have attracted venture capital investment and a mere 26.7 percent of women currently hold tech-related jobs. Events like the NJ Women in Technology Forum are an integral first step in effecting change and making resources more accessible to women in and outside of STEM.
The evening featured a lively panel discussion around key factors faced by women in traditional and nontraditional STEM pathways, including imposter syndrome, gender bias, leading organizational transformation and capitalizing on growth opportunities. Attendees participated in a networking session preceding and following the event.
Panelists included Jenna Gaudio, COO and Co-President of Vydia (acquired by gamma in December 2022), Amanda Pietrocola, President and CEO of Momentum Technology, and Jasmine Ward, Vice President of Strategy & Operation at TechUnited:NJ. The panel and subsequent Q&A session was moderated by Janine Savarese, Founder and CEO of NextTech Communications.
NextTech CEO Janine Savarese opened the evening's panel with a motivating note about the blue-sky potential beyond the glass ceiling, saying, "If you have an entrepreneurial mindset and treat your position as if it were your own company within a bigger organization—that's the way to really succeed."
Highlights of the conversation included revelations from the panelists and moderator about the challenges they've faced and the successes they've been able to capitalize on as women leaders in the technology field, including observations…:
On the importance of diverse teams: "Because there is this competition to get to the top, sometimes we are unintentionally pushing down other people instead of rallying arm-in-arm and doing it together. When you go to the symphony, you're not expecting to just hear 50 of one instrument. It's so much better when you've got different instruments—and their uniqueness, and the beauty of their differences coming together and doing something amazing." – Amanda Pietrocola, Momentum Technology
On diversifying AI and hiring practices: "There is a very strong case to be made for diversifying the way in which companies look to build their resources. There is a big opportunity to look at the way we are writing and promoting and leveraging data—or even the way we're going out to the market to pull in a more diverse candidate pool." – Jasmine Ward, TechUnited:NJ
On helping other women climb the ladder: "I realized early in my career that influencing the situation for my own good and the good of others would be an absolutely necessary skillset in changing my trajectory—and the trajectory of all women in tech." – Jenna Gaudio, Vydia
Photographs from the evening were taken by Peter Dant Photography and can be viewed online here; additionally, a recording of the panel discussion can be viewed here.
Save the date for part two of the conversation on May 10, 2023, when the panelists will reunite to continue the discussion over NextTech Communications' LinkedIn channel. For future event announcements and industry insights, follow NextTech Communications on LinkedIn.
About NextTech Communications
NextTech Communications is a women-led, integrated communications agency for companies that break barriers and redefine boundaries through technology. NextTech brings bold thinking and agility to help its clients – from startups to Fortune 500 companies across a wide range of industries – navigate change while advancing their brand missions, amplifying their stories, and achieving impact through tangible marketing results. NextTech is independently operated and owned by The Bliss Group, which is also part of The Next Practices Group.